Wednesday, December 31, 2003
Festive Catch-up
Well, Christmas time certainly threw some mixed emotions this year. Readers of the ever-popular
BigDaddyBlog
will know that we suffered a loss in the family. Me dear old Nan gave up the fight during my work's Christmas do, which kind of marred the occasion, and as such for the first time in the four-year history of the firm's Yuletide knees-ups I failed to
(i)
vomit on myself,
(ii)
swear at a partner,
(iii)
get off with someone I shouldn't have,
(iv)
fall over breaking furniture in the process,
(v)
or steal booze from behind the bar. Although I did storm the pub quiz, and cheated at charades, earning myself a Christmas cracker full of Maltesers. Strange evening. Followed by an early morning drink with Merk and Fella, complete with warm cans of Carling and Merk's first bongo mag!
The following Sunday I got truly pissed in the Crown on Budvar and sherry, then me and our kid had a takeaway bottle of white wine, which we polished off. Me being me, wanted more, and thus it followed that the house was beer and white wine-free, however, there was a bottle of red. Red is truly evil stuff, but I got three-quarters the way down until I fell over completely knackering my knee in the process. Of course, it was funny at the time! It wasn't so on Monday morning. Luckily I had booked the day off in advance,
The following two days were wasted at work, although there was absolutely no work to do. The last day's drinks were a wash-out really, we left work at about midday and half of us sauntered to the Plodge (Stavspeak for
Priors Lodge
, an office-worker's cliche of a pub, but is considerably more agreeable than the alternative, the ghastly Euston Way). Luckily Merk joined me and saved me from having to make friends with some people who work in Insurance or such like.
To repay his favour, I reversed my decision to stay in that night and joined him in some Christmas Eve food and revelries at the delightful Golden Ball in Ironbridge. The food was spot on and a good night was to be had by all those who turned up.
Christmas Day was quick. The presents were much appreciated, and the turkey dinner was good. I received loads of books on football and cricket, and a huge bottle of Grolsch too. Brother Merk loved his DVD player.
Went to the Bucks Head on Boxing Day, to watch Telford United play the mighty Forest Green Rovers. It was nine quid to get in and it rained so much the match was abandoned at half time. Impressive stadium though, I didn't get a refund. The following days have been pretty lazy, until the party night of Saturday 27th. We were kept pretty busy buying the booze and tidying the house up. The party went very well, and everyone got very drunk. I sang 'I Love Paris'... again! Merk phoned the Cambrian Hotel in Aber to get the ingredients for their Ewok cocktail. This enabled me to get even more drunk.
We are now getting ready to go to
Brileigh's
for New Year's Eve drink. Some of the lads are wearing formal dinner jackets and bows, and even I'm wearing a suit, of sorts!
So have a good night readers whatever you are doing and wherever you are doing it,
and here's to 2004,
Stav.
Friday, December 19, 2003
Stav's Advent countdown: 5 days to go
The Kim Jong-il Award for Making the World a Safer Place:
The award goes to
George Bush
, the
democratically
elected president of the
free
world. This year he has surely made international terrorism and tit-for-tat suicide bombing a thing of the past. One day we'll look back on his reign as President and breath a sigh of relief, give thanks to God, and long for another Bush in power. Eh? Oh right! Anyone else think he's watched too many John Ford films? Capturing a feather head-dress attired Saddam with a lasso in Monument Valley, "We got 'im, Sheriff". Indeed you did son, indeed you did.
Bush's bearded chum, Italian superstar tenor lookalike and all-round good guy Saddam Hussain comes in at second place, although whether he'll be around to challenge for next year's honours is currently in doubt. Third place goes to the man who put the 'zim' into Zimbabwe, and in the light of Idi Amin's death, the African dictator of the year, and friend of the farmers, it's Robert 'Call me Bob' Mugabe. Huzzah.
Stav.
Thursday, December 18, 2003
Stav's Advent countdown: 6 days to go
In the exciting second instalment of the awards that matter we look at the people behind those peculiar moments when football (ie. Ruskie billionaires/gang rape/drug scandals/and maybe some results) hasn't greedily consumed all of the back-page column inches like an overpaid Pac-man in shinpads. So pass me that envelope...
The Steve Redgrave Award for Sudden Interest in a Minority Sportsman:
For the first time in a long time Tim Henman has been beaten (although obviously not at tennis), the winner is England kicking person Jonny Wilkinson, the new male face of the Daily Mail, and bessie mate (ahem) of sarong-wearing monotone Madridista husband of freaky twiglet-like warbler Posh Spice.
First loser is Tiger (Grrrr!) Tim, followed by the BBC's favourite head-shaking female Forrest Gump, Paula Radcliffe. Mmmm sweaty feet!
Stav.
Wednesday, December 17, 2003
Stav's Advent countdown: 7 days to go
I've got finally got into the spirit of things (a mere two months after various desperate shops in the evil Town Centre). Contrary to the beliefs of Bob Dorough and, latterly, De La Soul, three isn't a magic number, at least not yet anyway. Today's magic number is seven. Because today we are seven days away from the eve of the anniversary of when a bloke who may or may not have existed, may or may not have been born. Got it? Right, onwards.
In the true style of end-of-year style kiss arse shows ("there you go Mr PJ and Mr Duncan, that's for being funnier than someone else.", "howay, cheers pet, like", "aye, what me bitch said, like."), here's the first of seven Stav's awards of 2003.
The John Lennon Award for Misplaced Blasphemy:
Goes to
David Blaine
, "Jesus was a magician, and so am I", he said. Funny how he didn't compare himself to Wizzbit-creator Paul Daniels. Anyway let me point out, so far Blainism has just the one follower, compared to Christianity's mere 2,076,629,000, so keep it up Dai, I'm sure you'll get there!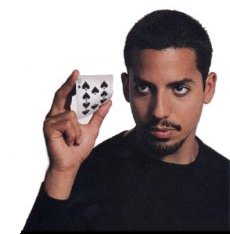 The runner-up was the entire population of the USA, for collectively and constantly wishing God to bless them. Third place was red-faced sponger Prince Harry at the rugby, basically singing along to 'God Save My Granny'.
Stav.